The CRLS Fencing team had the Mass State Individuals on Feb 22, and Mass State Team & Squads on Feb 23.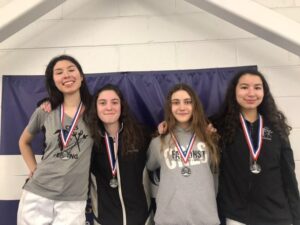 Individuals:
Women's Epee
Mariela Abramson – 3rd
Liliana Abramson – 5th
Women's Foil:
Hannah Chun – 8th
Halina Smolen – 14th
Women's Saber:
Rose Nolan – 9th
Men's Epee:
Ari Harris- 7th
Mario Mrowka – 8th
Michael Herrick – 24th
Andrew Theobald – 28th
Men's Foil:
Skylar Marks – 16th
Kartik Pingle – 22nd
Men's Saber:
Chad Nguyen – 23rd
Fernando Parepinto Hattori – 26th
Team:
Women's Team: 7th
Men's Team: 8th
Squads:
Women's Epee (L Abramson, M Abramson, L Adams & K Houtnes) – 2nd
Women's Foil – 7th
Women's Saber – 7th
Men's Epee – 9th
Men's Foil – 6th
Men's Saber – 8th
Wrestling Rocked Too
Just to add, two wrestlers also made it to the State Tournament. Zach Donnolle(pictured below) took first in the sectionals and was the no. 1 seed heading into States. Unfortunately, he suffered a concussion the day before the tournament and could not participate.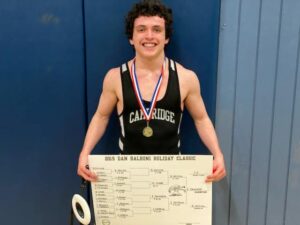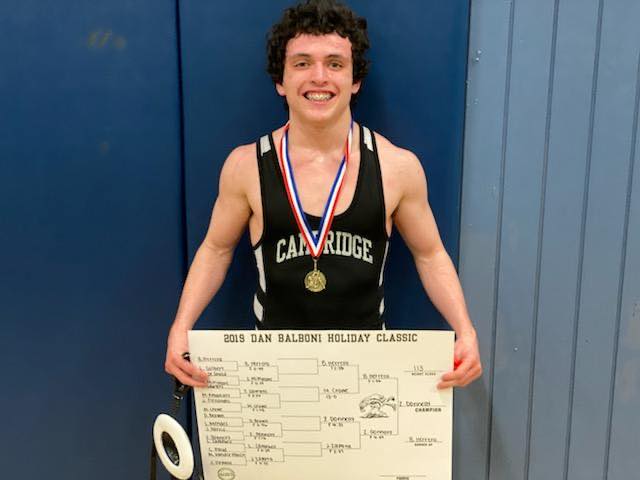 Henry Goodman also qualified for the State Tournament and did participate as the 4th seed.